No current events organised but we hope to arrange something soon! Our Past Live Online Event for #SouthAsianHeritageMonth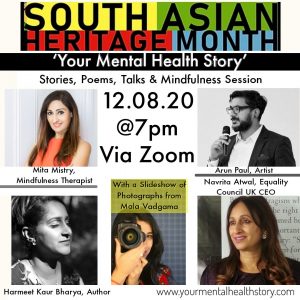 About the Event:
'Your Mental Health Story' Online will be a live event via Zoom to commemorate South Asian Heritage Month and mental health. There will be live poetry readings, talks about mental health rights & resources available in the U.K., a slideshow of photos from the project & a mindfulness session.
Speakers include mindfulness therapist Mita Mistry, poet Harmeet Kaur Bharya, psychologist Dr. Nisha Karia, poet & artist Arun Paul and the CEO of Equality Council UK Navrita Atwal. See the Zoom link at the bottom of the page to attend the free event.
Event Program:
Mita Mistry introduction and mindfulness session.
'Your Mental Health Story' photographic slideshow.
Harmeet Kaur Bharya poetry reading and talk.
Navrita Atwal talk on mental health and equality.
Arun Paul poetry reading.
Dr Nisha Karia talk on resources available for the community.
Mita Mistry talk on charitable mental health resources and more.
Contributers:
Mita Mistry https://www.mitamistry.co.uk/
Harmeet Kaur Bharya https://www.greathinkhers.com/
Arun Paul https://twitter.com/ArunKapur333
Equality Council UK https://www.equalitycounciluk.org/
Centric Projects http://centricprojects.org/exhibitions/
Mala Vadgama https://www.yourmentalhealthstory.com/, https://www.mkvphotography.com/
Dr Nisha Karia https://www.maximinds.co.uk/
South Asian Heritage Month Official Information:
@SAHM_UK, https://linktr.ee/SAHM2020